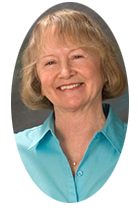 Ruth Doan MacDougall
Ruth's Neighborhood
As her time permits, Ruth writes essays about life in and around her neighborhood. Topics vary, but something interesting is always going on in Ruth's Neighborhood!
Going to the Dump
May 18, 2015

Don and I grew up in residential parts of Laconia, New Hampshire, where the trash was collected weekly. So town dumps didn't become part of our lives until later, in 1962, when we were renting a house in Lisbon, New Hampshire (the inspiration for the fictional north-country town of Newburgh where Tom Forbes taught).
There we learned that going to the dump was quite a ritual, greeted with joy by our border collie, Heathcliff. (We'd named him that because of his looks even when just a puppy. As Garrison Keillor would say, English majors!) Whenever Don began loading garbage cans into our green Jeep (which I also gave to Tom), in a flash Heathcliff too was in the Jeep, in his seat in the back on a shelf along which Don had built a wooden rail, a doggy version of a seat belt. Up front we also had seat belts, installed after we bought the Jeep because they weren't deemed necessary then.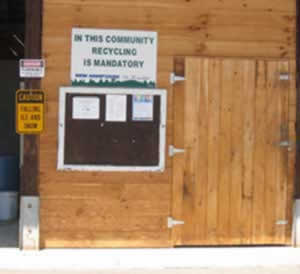 The Jeep loaded, off we'd go. In those days, a town dump was just that. We dumped out the garbage cans' contents into a big pit. I worried about Heathcliff's paws amid the debris of tin cans and glass and God knew what on the edges of the pit, and I worried about rats, but we couldn't deny him the bliss of exploring. A dog's nose must've received a billion fascinating smells at the town dump.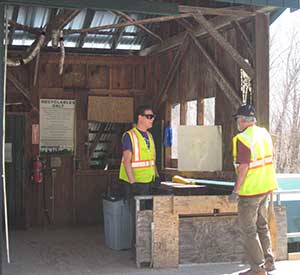 We moved on to other towns, lived in apartments with trash pickup, until in 1971 we bought our first house, out in the woods of Farmington, New Hampshire, where we learned another town dump. We particularly enjoyed the going-to-the-dump technique of one of our neighbors. He procrastinated about making the trip and simply threw trash into the back of his old truck, letting it accumulate, and when he couldn't heap it any higher he would proceed very slowly to the dump, top-heavy and teetering.
In my novel A Lovely Time Was Had by All, published in 1982, I described a fictional dump of that era:
In Millsted we used to drive through a gate up a zigzag course around beer cans and automobile tires and bedsprings to reach a scene from hell. For, although Millsted pretended to go along with the state's burning ban, the dump regularly and mysteriously caught on fire. Smelly smoke would roll into the sky, and on the gravel plateau the "accidental" fires burned in the garbage piled at the brink of a cliff. Disturbed momentarily by our arrival, seagulls would soar up and circle, mewing. Aerosol cans exploded. Choking, eyes streaming, we would fling our own offerings onto the flames, while the seagulls alighted and walked around digging with their bills into ripped plastic garbage bags. We became acquainted with a one-legged seagull whose missing leg, we assumed, had been amputated by an aerosol explosion. The seagull would balance on its one leg and then fly up and come down and balance again, doing a hornpipe without a peg leg.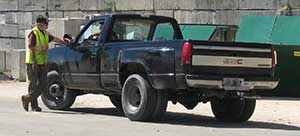 In 1976 we settled in Sandwich, New Hampshire. Here we've watched the changeover from a dump to a "recycling center and transfer station," a term everybody ignores except town officials. In our first experience of this dump, it was much like the fictional Dinsmere dump I described in A Lovely Time Was Had by All:
The Dinsmere dump was a true landfill, its garbage buried beneath the sandy soil, its dunes kept ever-changing by bulldozers. It had a million-dollar view of the mountains enjoyed year-round by Jonathan Ferguson, an old man who lived there with his pet rat. Their winter residence was a tarpaper shack set precariously on a knoll surrounded by a collection of broken chairs, discarded lawnmowers, doorless refrigerators, and scrap metal. In the summer, we had learned when we introduced ourselves to him during our first dump run, they moved to the airy chambers of their vacation home, an old station wagon lacy with rust, where the rat roomed in the upholstery. At any time of year the rat accompanied Jonathan Ferguson whenever he drove the station wagon to the village to seek supplies; the rat was fond of going for rides.
The recycling system included therapeutic exercise: you threw your glass bottles, with satisfying smashes, into bins according to color. The bins were beautiful, so in this novel I next described the lovely time had by the narrator's husband, Jacob, a Sunday painter:
The sight of the recycling bins made his fingers itch: all the green glass bottles heaped together, the clear bottles sparkling separate, brown bottles glowing, the tin cans' interiors shining, the colorful labels cheerfully prevaricating. We could live here at the dump, I thought, and he would paint recycling pictures and we would hold tailgate showings. The Garbage Gallery!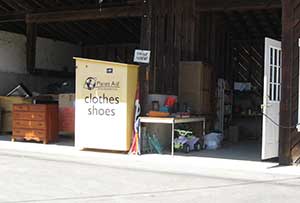 Nowadays we don't use the bins and the recycling is simplified, the procedures presided over with authority by Marilyn, the supervisor. As the Sandwich Web site says, the recycling center "provides excellent recycling opportunities where residents can exercise their environmental stewardship of resources and help reduce the bulk amount of trash."
One tradition continues: looking for "good stuff" at the dump. My best friend, Sally, has claimed that her husband brings back from their dump more than he takes. He's not alone. At the Sandwich dump the good stuff is put aside in the Swap Shop area. Don and I like to check what's new here, and sometimes we contribute to or subtract from its inventory—for example, we left my old Ball jars when I gave up canning and brought home a well-used tricycle, which Don placed on the lawn near the end of our driveway in hopes of slowing down summer people who drive too fast on our little country road. (It worked with some people, who thought "Tricycle—yikes, a kid somewhere near!" and hit the brake. Others blithely sped on.)
Our best discovery came not from the Swap Shop but from the contractors' waste bin. Don's eye was caught by the charm of a small straight-back chair, even though it was in sad shape, its cane seat gone, pieces of its back missing. He rescued the poor little thing. At home, he took the chair apart, created new pieces to replace the lost ones, put it back together, and caned a new seat. The chair fit my mother's old desk and soon had become my favorite chair. Over the ensuing years the "new" seat has worn out and is now covered with a cushion until he canes the next new seat.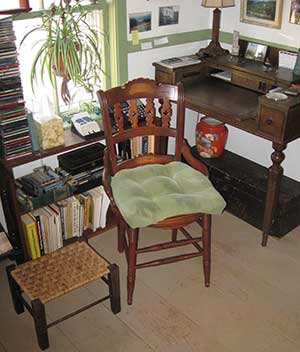 So we have experienced the evolution of town dumps from fiery pits to recycling centers. This is progress we approve of, but we don't think Heathcliff's nostrils would.

P.S. A fellow New Hampshire writer, Rebecca Rule, wrote a hilarious story called "Perley Gets a Dump Sticker: A Harrowing Tale." It's in her collection titled Could Have Been Worse: True Stories, Embellishments, and Outright Lies.

© 2015 by Ruth Doan MacDougall; all rights reserved