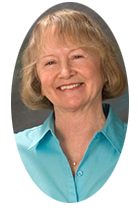 Ruth Doan MacDougall
Ruth's Neighborhood
As her time permits, Ruth writes essays about life in and around her neighborhood. Topics vary, but something interesting is always going on in Ruth's Neighborhood!
The Colonial Theater
March 1, 2011

"Remember," asked Penny, my sister, during one of our weekly phone calls recently, "the walks home from the movies in the winter when the afternoons were dark?"
"Terrifying!" I said, shuddering.
This had been in the late 1940s into the early 1950s, when we were living on Academy Street in Laconia, New Hampshire. (Later, we moved to Gilford Avenue.) Back then, the news wasn't full of children abducted, molested, murdered. We were not like today's children who are, as Ruth Rendell put it in one of her mysteries, under a form of house arrest. We roamed all over our neighborhoods, playing without supervision, and when Penny and I walked to the movies we walked on our own nearly two miles.
After leaving our house, we usually stopped partway along Academy Street at the house of friends, Mary, who was near Penny's age, and Ruthie (yes, yet another Ruth), who was two years older, my age. The age gap was vast, so Ruthie and I went on together, ignoring Penny and Mary who ran ahead or tagged behind. Our route led past the brick Academy Street School and the Belknap County courthouse, to Main Street, where we cut across a vacant lot over which a Cott Beverages billboard loomed. We continued on past the downtown stores such as LaFlamme's Bakery (best chocolate doughnuts in the world), Oscar Lougee's and Rosen's and O'Shea's (clothes, of more interest to us in later years), the nut shop (we never could afford cashews, but you could get a lot of Spanish peanuts for a nickel), the Western Auto hardware store (the upstairs at Christmastime a Santa's workshop of toys), the Newberry and Woolworth five-and-dime stores (where we spent most of the part of our twenty-five-cents weekly allowance that wasn't spent at the movies or on Spanish peanuts), and finally reached our destination.
Laconia had two theaters then. It was necessary to queue up a couple of flights of stairs to the Gardens Theater, a firetrap that specialized in B-movies, Westerns and Abbott & Costello and such, and thus appealed more to younger kids and males of all ages—I remember that once our father went with Penny and me to see a Hopalong Cassidy; we were young enough not to be mortified by his presence, but we did find his desire to see Hopalong awfully funny, as did our mother, who stayed home in blissful solitude. We kids sat through some unlikely stuff there, including movies that looked dated even to us. When I grew up and happened to read The G-String Murders, supposedly by Gypsy Rose Lee but perhaps ghostwritten by Craig Rice, I recognized in amazement that I'd seen a movie version of it at the Gardens! This was Lady of Burlesque starring Barbara Stanwyck. I've just checked the date on Google, and it came out in 1943. I certainly didn't see it at age four, so once again the Gardens had bought something cheap.
The "nice" theater, which showed the main Hollywood offerings, was the Colonial Theater.
In addition to describing it in The Cheerleader, I wrote about it in my first novel, The Lilting House:
In its heyday this theater must have been very grand; its seats were cushioned, unlike the other theater's, and there were boxes to the sides of the stage with gold railings and tassels; nobody sat in them now. There was an orchestra pit where no orchestra played, and above the proscenium arch was a painting of ladies almost naked, their drapery blowing, and cherubs, all soft blue and pink and gold. If you looked way up at the faraway ceiling, you saw an enormous chandelier.
Decades later I learned how we happened to have such a magnificent theater in Laconia. Benjamin Piscopo, born in 1864, was an Italian stonecutter who had made his fortune when he came to Boston and got into real estate there. He then moved to Laconia circa 1911 and continued his real-estate ventures. In 1913 he began the Colonial Theater project. According to an article in a 2010 issue of The Weirs Times, "he spared nothing . . . using master woodworkers, masons, and painters, many of whom had learned their craft in Italy, to create an Italian style theater which had 1,400 seats and was the site of vaudeville acts and motion pictures." In 1915 The Laconia Democrat reported that the Colonial was "one of the handsomest playhouses to be found in New England."
The first time I went to the Colonial, it was to see a play made from The Secret Garden. I think I was still in kindergarten then; I can only remember a feeling of bewildered excitement and on the stage a wall with pastel flowers. The next time I remember being there was when my father took me to see The Red Shoes, the 1948 movie inspired by the Hans Christian Andersen story, with Moira Shearer as the doomed ballerina. I would have turned nine that year. I suppose I must have read the story or had it read to me and hadn't been particularly bothered by its gruesome aspects, so my parents thought it would be suitable. They deemed Penny too young, so my mother stayed home with her. But the movie horrified me. The ending had red blood as well as red shoes! And I had nightmares.
Despite this, however, I became part of the groups of kids spending their Saturday afternoons at the movies, watching the previews followed sometimes by a newsreel, sometimes a cartoon, and then the double features.
Sandy is a friend from a younger generation whose love of old movies, especially musicals, has made me realize how lucky I was to have seen them when they were brand-new. In the Colonial I sat enthralled through musicals from Show Boat to Singin' in the Rain. As I've written elsewhere, An American in Paris is still my favorite movie ever. There were lesser works, of course, such as On Moonlight Bay and By the Light of the Silvery Moon, and maybe we got rather sick of Doris Day and Gordon MacRae. But we gobbled the whole gamut along with our popcorn. I would leave the theater humming, trying desperately to remember lyrics, such as the clever ones sung by Fred Astaire and Jane Powell in Royal Wedding's "How Could You Believe Me When I Said I Loved You When You Know I've Been a Liar All My Life?": "—You're really naïve to ever believe a full of baloney phoney like me!" (The name "Alan Jay Lerner" in the screen credits meant nothing to me then, but I loved that song.)
Don, my husband, whom I didn't know in this childhood part of our lives, has his own memories of the Colonial. There was an emergency exit door that could be opened from the inside onto a side street. The boys would chip in to pay for one boy's ticket, and, once inside, this kid would open the door for the boys waiting outdoors to slip in one at a time, on the alert for an usherette or the extremely forbidding manager.
Usually the balcony was closed during matinees, probably because kids up there would naturally start throwing popcorn on those below, but on rare occasions the downstairs was so packed that the manager had to open it—and then ensued a thundering stampede, mainly boys. Don recalls that it was kind of spooky to be up in the balcony, which wasn't well lit.
During "mushy" love scenes, Don would head for the lobby and the lengthy candy counter. Nowadays, when I sense him beginning to squirm while we watch a DVD, I ask him, "Are you about to go buy some Necco wafers?"
In addition to the musicals and comedies and romantic movies at the Colonial, there were scary movies. I particularly remember one in which a lion was terrorizing a village; I ducked down behind the seat in front of me and stayed there, peeping fearfully through the space between it and the next seat. I didn't go to see The Thing—maybe I had a cold and my mother kept me home—but Penny did and she has not recovered to this day.
Which brings me back to our recent conversation. Penny and I recalled that sometimes we walked home together from Ruthie and Mary's house if we'd met up there after the movies, and that gave us courage. But in our memories we most often walked home alone from Ruthie and Mary's, along the dark neighborhood street no longer familiar, lined with trees behind which terror lurked. Sometimes we broke into a run, but that was more dangerous because then it would chase us. Usually we walked, hearts pounding. Though what we feared wasn't today's very real terrors, our fears certainly felt starkly real to us. Behind that tree, that shrubbery, that telephone pole, there might be monsters—lions—The Thing!
Years later in the 1960s when Laconia ill-advisedly underwent an "urban renewal" that razed half of our beloved downtown, we rejoiced that the Colonial was in the section that was spared. But in 1983, to our dismay the Colonial was split up into a multiplex of five theaters. At least, however, the interior wasn't destroyed during this; it could be restored. Now the Colonial is closed and for sale. The city of Laconia has an option to buy it, but these things are complicated and a "feasibility study" continues. Those of us with memories of music, romance, and terror do hope that our Colonial Theater can be saved.

The 1999 photo at the top, was taken during the "Gunthwaite Caper" when Ruth and her husband Don took the Web site staff on a weekend tour of the many local spots that served as inspiration for fictional locations in The Cheerleader.

                     © 2011 by Ruth Doan MacDougall; all rights reserved.