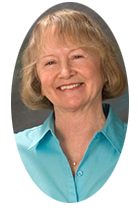 Ruth Doan MacDougall
Ruth's Neighborhood
As her time permits, Ruth writes essays about life in and around her neighborhood. Topics vary, but something interesting is always going on in Ruth's Neighborhood!
Penny's Cats
March 13, 2013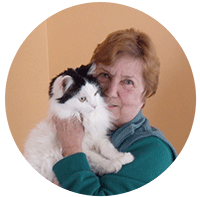 My sister, Penny, has always had a cat in her life.
Because she was so young (two years younger than I am), she can't remember our earliest family felines, the barn and house cats at the chicken farm in Belmont, New Hampshire. I only remember one, my first childhood memory that's now a memory of a memory, a fierce battle-scarred barn cat looking in my bedroom window when I awoke from a nap. But we both remember our mother's stories about those house cats, mainly the cat she was especially fond of, named Cleora.
From the farm, we moved into town, Laconia, with black-and-white Millicent, who eventually produced black-and-white kittens, all of whom were distributed to homes in the neighborhood except for one male. I named him Kit, thanks to a Christopher coincidence: he was born on Columbus Day, and our folks were reading us one of those "twins" books from the library, Lucy Fitch Perkins's Dutch Twins, Christopher and Katrina, nicknamed Kit and Kat. Kit seemed a fine name for a kitten. However, although I named him I wasn't all that interested in him—or cats in general. Penny was.
Kit became her first cat. She dressed him in dolls' clothes; she pushed him in a doll carriage; she draped him around her shoulders and wore him as a make-believe mink stole. He never scratched her. He grew to be a big heavy cat, but little Penny lugged him everywhere. Our mother taught us both how to cut up, with kitchen shears, raw kidney for his meals—eek, yuck!—and Penny didn't gag as much as I did.
Penny grew up to be a landscape designer, and her life has continued to be shared with cats. Also dogs. Readers of The Cheerleader will have recognized Snowy's cat, Kit. When we were kids we also had a dog, a Shetland collie named Annie Laurie, like Snowy's. Laurie was Penny's as well. Years later, after a mostly golden retriever named Ben, she had another Shetland collie, this one named Thistle. I've forgotten some of the names of all the cats, but I recall Malice (a Siamese) and Negative (black).
In the 1990s, Penny began to escape Maine winters by driving to Florida or Arizona in her car with her dog and cat—sometimes cats. One year I flew out to Arizona to join her for a week, and when she shifted bases from a friend's house in Mesa to a showplace she was house-sitting for another friend near the Mexican border, we laughed over how there was barely room for her dear old sister in the Subaru Impreza because it was occupied by her latest dog, a female Lhasa apso named Seaweed (who caused more amusement because I never could look at this canine dust mop without bursting out laughing) and two cats in two carriers.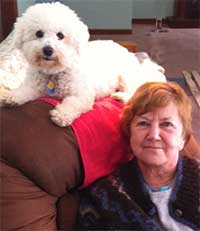 This sort of travel with animals presented the obvious problems about staying in motels, stopping at restaurants, and such. The obvious answer was an RV, and when the year 2000 rolled around, Penny celebrated it by acquiring one. She was down to one cat then, a photogenic white-and-black cat named Phoenix. The dog was still Seaweed. Off went Phoenix and Seaweed with Penny in the RV each winter to warmth and sunshine.
I never joined them on the road, but once, when the RV was parked for the summer in Penny's yard near the Maine ocean, I stayed several days in it, as in a guest cottage. I was reminded of our father's affection for backpacking; he had written, "It was like carrying a home on your back."
Then a grandson changed Penny's mind about winter. She decided to stay in the north so she wouldn't miss a whole season of his growing up, and she sold the RV.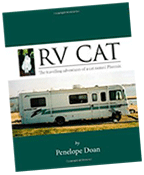 We Doans call writing "the family failing." We all write, in one way or another. We can't help it! In the past Penny has written gardening articles for magazines. Now she is the author of a charming book of photos and verse about those RV days, with Phoenix the heroine. You can see it on Amazon: RV Cat: The Travelling Adventures of a Cat Named Phoenix, by Penelope Doan.
Nowadays Penny has two dogs, a Scottish terrier named Skye and a bichon frise named Paris. And, needless to say, she has a cat. Named Princess Tiger Lily.
© 2013 by Ruth Doan MacDougall; all rights reserved