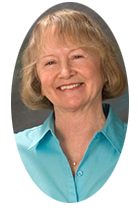 Ruth Doan MacDougall
Ruth's Neighborhood
As her time permits, Ruth writes essays about life in and around her neighborhood. Topics vary, but something interesting is always going on in Ruth's Neighborhood!
Why Climb a Mountain?
June 17, 2013

In the spring of 1973, a package arrived for Don and me. It held a copy of a book titled simply Fifty Hikes. Inside, the author—my father—inscribed it:
For Don and Ruthie: On these occasions I never know what to write except, Love, Dan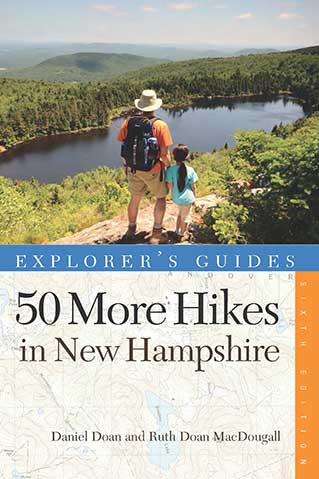 Of course I burst into happy tears.
A few years earlier the publisher at New Hampshire Publishing Company had suggested Dan write this book, after Dan had written two novels and many short stories and articles during previous years. Now here it was, a guide to New Hampshire's White Mountains and also to the history and flora and fauna of this place Dan had been exploring since boyhood. All of Dan's decades of hiking experience and knowledge, his love of the land, his skills as a woodsman and a writer, went into this book.
Because of Dan's writing, the book was hailed as one to be savored in the armchair as well as used on the trail. Here are examples:  
"Birds along the trail, such as thrushes, are typical of the deep woods, although a scarlet tanager sometimes flits and calls among the high branches, or a fluttering redstart flashes among smaller trees."
"In spring and fall, watch out for ice on the rock. You could slide a long way into the trees with time to think about other errors before the crash."


"Cascade Brook rushing down the mountainside may not seem to be plunging toward the sea, but surely it is, and will return as water vapor in clouds to again drench these mountains and replenish this lovely brook."


"One hiker . . . tells of discovering evidence of toil and poverty. Near the [lumber camp] dump he unearthed a rotted leather boot that had been resoled four times. Nails held leather to leather on this relic, and attested to a lumberjack's 'making do' his only pair of boots. Yet the hiker recalled that many old lumberjacks look back on their younger days in the camps and forests as the best years of their lives. (Rough on the forests, however.)"
The book's success made the publisher suggest a sequel. So Dan wrote 50 More Hikes in New Hampshire, and in subsequent editions the first book became titled 50 Hikes in the White Mountains. The publisher next suggested that he write a Vermont hiking guidebook. In his mild way, Dan replied, "It's taken me fifty years to learn New Hampshire. I'll stick to New Hampshire."
But he had started a series, the 50 Hikes series, which Countryman Press in Vermont acquired when it bought New Hampshire Publishing's outdoor recreation list in 1981 (and which now covers many, many states, from Maine to Alaska). His editor at Countryman Press, Christopher Lloyd, later wrote, "We have developed a friendship that has transcended the usual business relationship. Several of us have hiked with Dan and his wife Marjorie in the White Mountains or visited them at their home in Jefferson, and there are files upon files of friendly, informal correspondence to attest to the mutual affection. Dan is never 'business only.' In his letters and phone calls, he always shares something personal, an event from the day or a recent sighting of a rare bird. While his writing style and gentle humor are sufficient rewards in themselves for an editor, it's also true that his books keep on selling, year after year....It is probably safe to say that only the Appalachian Mountain Club, in which Dan was an active member, has introduced more people to the joys of hiking in his beautiful state."
Dan's two guidebooks came to be considered classics. Philip N. Cronenwett, then Curator of Manuscripts and Chief of Special Collections at the Dartmouth College Library, said of the papers Dan gave to the library, "Dan's work, both in fiction and nonfiction, is steeped in the history and traditions of New Hampshire. Dan is, perhaps, best known for his very popular 50 Hikes guidebooks written with an understanding of the history of the areas covered and an appreciation of the beauty of the state. These books are so popular that they have gone through several editions and are considered the standard works on the subject. One of the goals of the Dartmouth College Library is to collect and make available the papers and manuscripts of important American literary figures. Among these are Robert Frost, Erskine Caldwell, Genevieve Taggard, and Kenneth Roberts. Dan Doan's papers are among those collections of American writers who have made significant contributions to literature. We at Dartmouth are well aware of the importance of Dan's work as a writer and proud to be the repository of his papers."
Dan continued checking trails and updating the books until his health wasn't up to it anymore. My sister and I then checked trails for him, and I joined my town's hiking group to check more. After his death in 1993 I took over the updating of new editions, with family and friends continuing to help.
And now the latest edition of 50 Hikes in the White Mountains has been published, the seventh edition. For the first time, the photographs are in color! Countryman Press decided that this book would be the perfect pioneer for this new format, having been the book that started the series. As I worked on the new edition, choosing the photographs that outdoor photographer Robert J. Kozlow sent me, and later as I saw the photos in the proofs, I knew that the book would be beautiful, but nonetheless when my advance copy arrived it took my breath away—and I remembered the arrival of that first copy forty years ago.
People sometimes joked with Dan about why the hell anybody would want to climb a mountain—especially during blackfly season! In his description of the Stinson Mountain hike, Dan explains, "Its elevation of 2,900 feet treats the hiker to the joy of arriving at the summit after just enough effort and distance to impart a sense of accomplishment. This delight, compounded of well-being, good luck, and the wide view, has more to do with why people climb mountains than the commonly accepted motive 'because it's there.'"
As Dan used to sign his books: Happy Hiking!
© 2013 by Ruth Doan MacDougall; all rights reserved