The E-Blast is an occasional publication of news and notes for Ruth's fans.
Issue #1: Fall, 2020
Issue #2: December, 2020
Issue #3: April, 2021 

Meet the E-Blast creator and editor, Jennifer Davis-Kay, HEREand subscribe by sending an e-mail to the E-Blast Subscription Desk.
Welcome!
Have you read LAZY BEDS, the newest title in Ruth Doan MacDougall's Snowy Series? It's available in both print and ebook formats. You may place orders through the Frigate Bookshop, where you'll find several purchasing options for both thepaperback and e-book versions.


Ruth usually updates her Facebook page on Sunday mornings. Join the conversation! (The Facebook entries are all reprinted HERE as well.)
Reader Features

Since 2018 Ruth has continued her "Ruth's Neighborhood" entries on her Facebook page. Ruth updates this column each week, usually on Sunday mornings, and fans are welcome to join the ongoing conversation. Below is this week's entry.
A BURNS NIGHT
January 23, 2022
This entr,y and the directory of all previous entries, can be found here. To read here you may need to scroll.
In Lazy Beds I wrote, "Next Sunday was Burns Night, when she would as usual make Cock-a-Leekie Soup for supper." This Tuesday is Burns Night. I must confess that unlike Snowy I've never made Cock-a-Leekie Soup, though I've studied the recipe in my copy of Theodora FitzGibbon's Taste of Scotland cookbook. Instead I always made my quick version I'd invented by adding chopped onions to canned chicken-noodle soup; of course I couldn't resist naming it Mock Cock Soup.
For several years the Corner House Inn in Sandwich had a Burns Night dinner, and we once went. There we had a splendid Scottish feast that started off with real Cock-a-Leekie and included haggis, which we'd already sampled in Scotland so our taste buds were prepared.
In Henrietta Snow, I mentioned Robert Burns when Snowy and Ruhamah were  in Edinburgh and visited the Writer's Museum, as Don and I did:

"The Writer's Museum, Snowy thought, was obviously a place to be avoided because it would make her work seem so paltry. But hell, hadn't she been looking at the grandiose Scott Monument, not that you could miss it? . . . [She and Ruhamah] spotted a tiny opening into some sort of enclosed courtyard, and there it was, the Writer's Museum, formerly Lady Stair's House, an old mansion whose turrets and chimney pots contributed to a very imaginative effect, appropriate to the present purpose. Hesitantly, Snowy followed Ruhamah inside. In the main room's Sir Walter Scott exhibit, she read how he had worked himself to death, writing to pay off the debt of his publisher. Robert Burns, a sign said, was upstairs, and with fear she climbed the stairs to face the emotions that seeing his work exhibited would churn up. But as she looked and read, what she felt was sick-at-heart pity when she learned that he had blithely sold the copyrights to his poems for next to nothing."


Back in 1959, when Don and I settled into our apartment in the Keene Teachers' College married-students' barracks, we decorated the walls college-style with prints and posters, mainly Toulouse-Lautrec, which I'd mail-ordered. But in the bathroom we found ourselves thumbtacking up (there was no rule about not using tacks on the walls of that old firetrap) quotations that intrigued or amused us. I typed and tacked up an entire poem, my favorite Burns poem, "A Red, Red Rose":

O my Luve's like a red, red, rose
   That's newly sprung in June:
O my Luve's like the melodie
   That's sweetly play'd in tune!
As fair art thou, my bonnie lass
[of course in my mind it was "lad"],
   So deep in luve am I:
And I will luve thee still, my dear,
    Till a' the seas gang dry:
Till a' the seas gang dry, my dear,
   And the rocks melt wi' the sun;
And I will luve thee still, my dear,
   While the sands o' life shall run.
And fare thee weel, my only Luve,
   And fare the weel a while!
And I will come again, my Luve,
   Tho' it were ten thousand mile.
© 2022 by Ruth Doan MacDougall; all rights reserved
Other News and Updates
by Jen, E-Blast Editor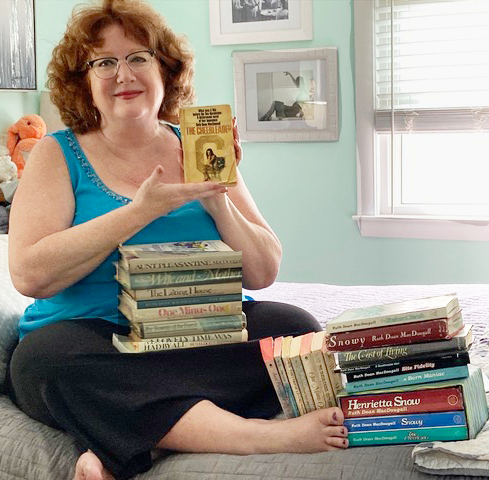 E-Blast editor Jennifer Davis-Kay, surrounded by some of her favorite books.
The E-Blast is your connection to news updates!
The E-Blast is an occasional publication of news and notes for Ruth's fans. Here you'll get background on your beloved characters, stories from Ruth on different inspirations for particular scenes, recipes from the books, a deeper look into Ruth's writing beyond The Snowy Series, and so much more!
SUBSCRIBE to the E-Blast!
Are you subscribed to the Ruth Doan MacDougall E-Blast? If not, e-mail the E-Blast editor and ask to be added to the mailing list.
E-Blast Issues Available:
If you missed any of the issues published thus far, you can find them here:
Issue #1: Fall, 2020
Issue #2: December, 2020
Issue #3: April, 2021

If you have a question for Ruth or an idea for a future story, don't hesitate to e-mail Jen.